This is the last in a series of four posts spotlighting music from the Fort Stockton (Texas) "Pride of Pantherland" High School band. [Previously: 1966-1967 | 1967-1968 | 1968-1969] These posts will span the school years corresponding to the time yours truly (and MLB) spent in the band. I'm doing this as a way of preserving some of the musical memories that were made in those years. I'm sure that not everyone who was in the band at that time kept the record albums that were issued after each spring concert.
If you were a band member during that era, please feel free to share your memories via the comments section below. A half century has passed, as have many of our schoolmates. This is a good time to record some history.
Senior year (1969-1970) was a time of mixed emotions. We had a new band director — Donald E. Hanna. Mr. Hanna was the polar opposite, style-wise, from Mr. Jarrell, but he was one of the finest directors and nicest guys I've ever known. He became well-known throughout the state for his directing skills. He unfortunately succumbed to cancer in 2014 at age 72.
The war in Viet Nam continue to rage, and a few of my classmates were either drafted or enlisted after graduation. I had a fairly low draft number, but got a student deferment when I enrolled at Texas A&M. The draft never really was a worry for me, but it also wasn't taken lightly.
But I digress. Band-wise, this was a great year. I was first chair clarinet for most of the year (Del Yarbrough — later known as Dr. Yarbrough — assumed it for a brief period, as I recall; for the record, I doubt that I was a better player than him, but I suspect that Mr. Hanna wanted a senior as first chair). I was Band Captain and MLB was Band Sweetheart. I'm positive she was more qualified for her position than I was for mine. Both of us made All District band (she was also a clarinetist).

L-R: MLB, aka Band Sweetheart; Don Hanna, Director; Me, Head Band Geek
The FSHS band excelled during the four years the Class of 1970 was there. (By contrast, it's a good thing our band excelled so we didn't have to count on our football record to inflate our school pride. In four football seasons that our graduating class endured experienced, Fort Stockton went 4-35-1. That one tie was the only non-loss of our senior year. Our basketball team, by contrast, was awesome.)
Here are photos of the band's 1970 album front sleeve — in full color for the first time! — and the record label. In addition, the back of the sleeve has a list of the band members, and I've included that below as well.
The song I've selected from this album is in a different vein than the first two I picked. English Dances composed by Malcolm Arnold in the early 1950s. Arnold also produced the score for The Bridge On The River Kwai, for which he won an Academy Award. Unlike that song, English Dances had no whistling, which was a blessing.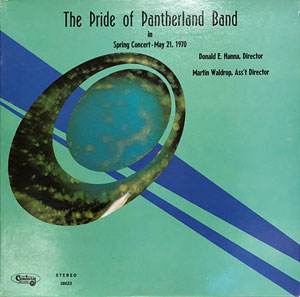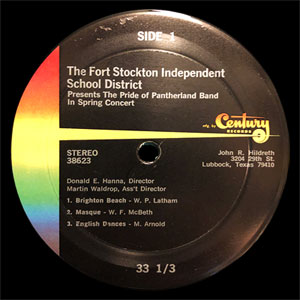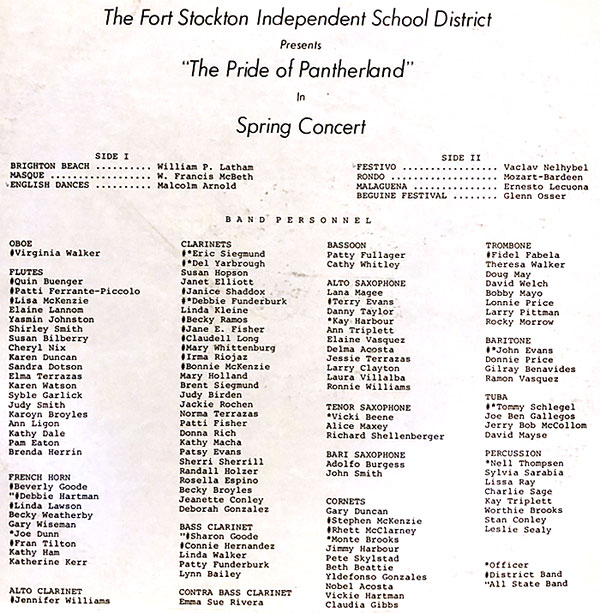 As you'll be able to discern from the very beginning of the piece, English Dances was a bear of a song for woodwinds, and I think we acquitted ourselves admirably with it.