I've thought a lot about whether or not to write this post. When I started blogging almost twenty years ago, I sometimes overshared and opined on topics I had no business writing about, but I gradually came to realize (and accept) my meager wisdom and questionable insights. I then endeavored to publish posts that were positive, or educational, or entertaining (and, very occasionally, all three), and I hope I've been able to do that somewhat consistently.
At the same time, I'd like to think that I've made some friends along the way…some whom I've never met in person, but through shared virtual experiences care about me as I care about them. Plus, Debbie said it was OK. So, here goes…

The Summer of '22 has been a huge disappointment to me…so much so that during the part of June when I was in the book of Job as a part of my "Read The Bible Through" program, I often mentally wanted to say to that guy, you think you've got it bad? You should see what I'm dealing with!
The worst part happened early, when we made the hard decision to call in Hospice for end of life care for my mom. She passed away less than a week later.
They say that stress will lower your resistance to infection, and that might explain why, in short order, I developed a serious UTI, and did an encore with a visit to the emergency room where I was diagnosed with pneumonia. I also whiled away the hours passing multiple kidney stones. And the pneumonia was followed by a bout with COVID (which I helpfully shared with Debbie, because that's the kind of generous guy I am).
Oh, did I mention that I also have cancer?

I only buried the lede slightly there. Mother's death really was a low point, although it was also a blessing given how badly her physical and mental health had deteriorated. But the day following the one that we made the decision to transition to "comfort care" was the day that I got the prostate cancer diagnosis.
The diagnosis wasn't a huge surprise. A month earlier, lab work associated with a wellness checkup revealed a significantly elevated PSA reading. My urologist was concerned enough that I underwent a biopsy, and that confirmed the diagnosis.

Let's pause for a moment and consider the wonderfully terrifying procedure known as a prostate biopsy. Guys, the TL:DR version is…try really hard not to need one.
A prostate biopsy is a Class I violation of one's personal space. And it's somehow made worse when your urologist is female. Now, I realize full well that many of you ladies have had to submit to gynecological exams by male doctors, and I empathize with you. But I'm also pretty sure that there at least was a female nurse or PA present during those exams. For my biopsy, it was me and three women (I'm not sure what the other two were doing while the stabbing was taking place, but at least they didn't seem to be stifling laughter).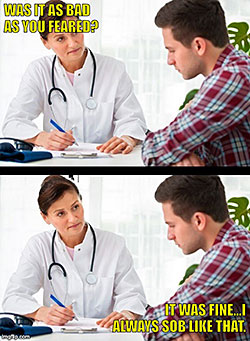 Then there's the actual biopsy, which consists of ramming an inch-wide nail a dozen times through an orifice that shall go unnamed and into an organ which, while being mysterious and exotic, is also quite full of sensitive nerve endings. I don't think I screamed like a little girl (mainly because a little girl wouldn't have been in that position to begin with), but the soothing voice of the doctor saying things like "who's a good boy? you're a good boy…" whilst hammering on the railroad spike with an eight pound sledge probably helped some. Plus, did I mention all the women in the room? No man wants to whimper in front of such an audience.
OK, I jest…mostly. The physical pain was actually minimal, and the doctor was quite skilled and efficient and reassuring. That's the upside of having a female doctor, I think. A male doc would have just said something like, rub some dirt on it, dude.

The biopsy confirmed the presence of cancerous cells, so I underwent a CT scan, a bone scan, and an MRI, all of which indicated that no metastasis had occurred. That's good news, right?
I also had a X-ray after the bone scan highlighted something unexpected (to the doctors) in my upper right arm. But I immediately knew about it, and knew it wasn't a problem, because I even overshared blogged about it seven years ago.
Anyway, I was feeling pretty good about things, or at least as good as one can feel knowing that one has cancer. That wouldn't last.

More than a month passed before I could get a consultation with a surgeon, who is also a urological oncologist. Our meeting resulted in the elimination of some doubts I was beginning to have about whether a prostatectomy was really called for.
While the cancerous cells showed up in only one of the twelve samples from the biopsy, and none appeared elsewhere in the body, the type of lesion and its placement (it has penetrated the wall of the prostate) make treatment by radiation a rather bad option, owing to the high risk of recurrence and spreading. So, surgery it will be.

Not my actual surgeon
The surgery itself should be a figurative walk in the park, since it's done by an
army of robotic arms
under the direction of a skilled surgeon, and it's only a little unnerving that he will be located in another county. OK, that's not even close to being true, but he won't be getting near those mechanical arms and I hope that's not because the
Terminator
movies were actually documentaries.

So, that's my story. I know my situation isn't unique; next to skin cancer, prostate cancer is the most common form for American men, according to the ACS, and particularly for guys who have worked hard to achieve an advanced age like mine. And I'm not even tempted to shake my fist at God and yell, "why me?!" Because, why not me? My prayer is that I'll not fail to recognize and rely on God's grace, whatever may come, and that I'll be able to encourage others who might now or in the future walk this same path.
The surgery is scheduled for September 13th. And while I'll let you research the details if you so desire, it's not an exaggeration to say that in some ways, this is a life-changing procedure, whether or not it relieves me of the cancer. I will always appreciate your prayers, but pray especially for My Lovely Bride. I'm pretty sure I'm going to be a terrible patient…fortunately, she's proven time and again to be an absolute angel of a nurse.
If you made it this far, bless your heart, and thanks for listening. I'll try not to bore you too much with how this plays out, but I'm always probably going to be fishing for sympathy, so you've been warned.
And I'll close with this message to any guys who are checking in: let my story be a cautionary tale…don't do what I did and assume that just because you don't have symptoms, you don't have problems. You know what to do. Just…you know…do it.