I mentioned yesterday that Abbye's reaction to snow is somewhat surprising, particularly in light of her normal sissified behavior in other meteorological conditions (wind, rain, thunder, etc.).
When we awoke Wednesday to a thin blanket of snow, she dutifully trucked out into the backyard per her usual routine, and having completed her business, did this: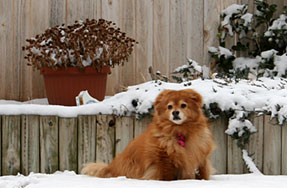 Then, as if sitting in snow wasn't evidence enough of her disdain for the conditions, she did this:
She appeared quite content to recline indefinitely and I had to issue a stern order to get her back inside. I assume that her fur is so thick that she was simply enjoying a cool interlude. (I do wonder if she has a visual recollection of snow, now that she can no longer see it.)
The downside for her was that she was greeted at the door with the Big Brown Towel. As you might guess, she reacted to the drying off process as if I was actually skinning her alive in order to remove the ice that was clotted in her fur. Now, that's the Abbye we know and love.