One of the gratifying aspects of blogging is hearing from people who want to know more about something I've written. And nothing has generated more such contacts than the posts I've made about Atlantic Richfield Company's corporate art collection. It's been twenty years since ARCO was swallowed up by BP Amoco (now just BP), and five years since I first blogged about ARCO's extensive collection of artwork, but I regularly get email from people who are seeking additional information about pieces that they believe were once in that collection — or, even better, offering additional information about that artwork.
If you're just now tuning in, you can find the original articles about the artwork here (May, 2015) and here (October, 2016).
Last week I received an email from someone that fell into that latter category. I have that person's permission to share it.
Hi Eric-
I commented on one of your blog posts, but I thought I should email you as well.
I have some photographs you may be interested in. After I earned my photography degree in 1983, I worked as a darkroom tech in Schaumburg, Illinois, processing film and producing prints for corporations and pro photographers.
One of our clients was ARCO. I spent a -lot- of time producing 8×10 prints and duplicate transparencies of pieces in their collection. I saved every proof of every piece I liked.
I still have them.
I suspect you may be interested in seeing them! Mostly sculptures — I don't recall doing any two dimensional pieces, but it was a long time ago. I'll dig the boxes out today.
Thank you for the illuminating blog posts!. I was always curious about ARCO's collection — and its disposition. Thanks goes to the synchronicity of the Internet- I only found your blog because I learned that a friend, Arthur Ganson, sold a number of his sculptures to William Louis-Dreyfus (Julia's dad), who was a huge outsider art collector.
At that moment, I realized that I had never Googled the term "ARCO art collection"- well! Here we are.
John Lovaas
Woodstock, Illinois
Well, as you might expect, my curiosity was piqued and I was indeed interested in running down this new trail. John and I exchanged a series of emails and a few days ago ten high resolution scans of artwork photography appeared in my inbox. John had done what he promised; it was time for me to get to work.
The first item of business was to nail down the nature of the ARCO location where the artwork resided. I knew nothing about any offices in the Chicago area, and I came up empty trying to find a reference to a Chicago-based operation. So I crowd-sourced the research.
There's a Facebook group composed of former ARCO employees who worked in the Dallas headquarters of what eventually became ARCO Oil and Gas Company. I posed the question to that group, and one of my former co-workers (supervisor, to be exact) came up with a link to this 1984 notice from UPI. The announcement of the move of Anaconda Industries, which ARCO acquired, to Rolling Meadows, Illinois. This seemed to answer the question…except…
John's work on the photos took place in 1983, before the above-referenced move to Rolling Meadows. Plus — and this is the biggie — Rolling Meadows is northwest of Chicago, and John clearly remembers the ARCO client being located on the south side. So much for crowd sourcing.
Fortunately, John came up with his own research in the form of this 1987 Chicago Tribune article documenting the reopening of an ARCO research facility in Harvey, Illinois. That in turn led me to this FOIA request that references the former location of an ARCO Chemical research facility in Harvey. In addition, a couple of other former ARCO employees chimed in with firsthand knowledge regarding the Harvey facility. So, absent any additional information to the contrary, I'm going to assume that the artwork shown below was at one time located at that facility.
Sure, it's not important in the grand scheme of things, but we're all about accuracy here at the Gazette, even if we have to make it up.
Having established the "where," I then set out to try to clarify the "what"…i.e. the backgrounds of the pieces for which John has provided the images shown below. Because of the nature of his work — making prints and duplicate transparencies from the original transparencies provided by ARCO — there was no identifying information. Of course, the artwork speaks for itself, but I suspect many of us find our enjoyment enhanced by knowing something about the piece and its creator.
I turned first to the Tineye reverse image search service. If you're unfamiliar with this fascinating (and free) resource, it allows you to upload an image and then it searches to see where else it might appear online. As of this writing, it's cataloged 42 billion images. I've used it sparingly in the past to see if anyone has "borrowed" photos that I've used in my blog posts.
I used Tineye to search for matches on the ten images provided by John. I wasn't optimistic…and my realism paid off, as there were only two matches. But both of those matches led to resources that helped me learn more about the artwork.
For the remainder, I did sleuthing based on the artist's name, where I could make it out. I also reviewed literally hundreds of images associated with each artist via Google searches. In the end, only three of the ten pieces remain unidentified. My hope is that someone someday might run across this post, recognize one of the mystery pieces, and share some information about it.
Based on my research, it would not be an exaggeration to say that most if not all of these nine pieces are historically significant examples of American folk art and it was a privilege to be able to "handle" them and to learn more about the artists. I hope I've done them justice.
I think that's enough context. Let's get down to the really interesting stuff: the artwork itself. Along with a JPG of each piece, I've provided all the information about the artist and the artwork I could find, along with a blurb highlighting a bit of biographical information about the creator. You can follow the links I provide if you want to know more.
Also, a mild disclaimer about the color accuracy of these images is in order. Most of the images I was given did not have color reference cards, so I didn't have a baseline to know what adjustments might be needed to approximate the look of the original piece. So, I offer my apologies to any art critics (or owners) who are familiar with the artwork. For the rest of you…just assume they're perfect representations!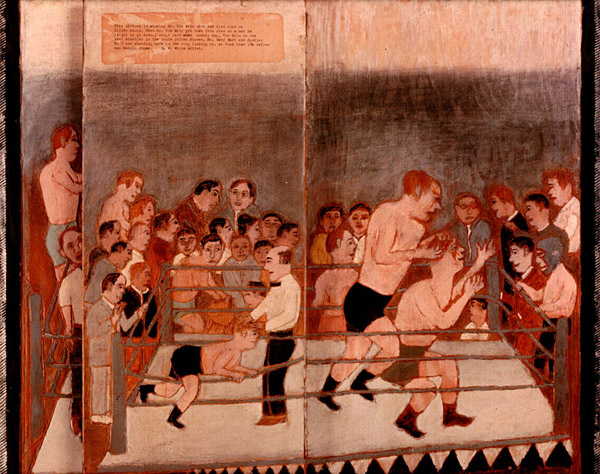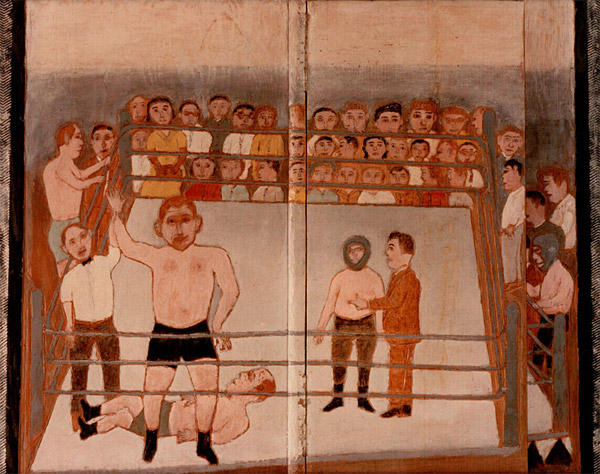 Title: Wrestling (1968)
Media: Oil on panels with carved relief and collage
Dimensions: 27 3/8″ x 29 7/8″ x 6 ¼" (mounted on board)
Artist: George W. White, Jr. (1903-1970) [Bio via Texas State Historical Association]
Born: Cedar Creek, Texas
Collection: Dallas Museum of Art
Comments: "Wrestling" (1968) has a hinged panel mounted in the center: when the panel is turned to the left the fight is represented in progress, and when turned to the right the winner is shown standing above his knocked-out opponent. (Via Texas State Historical Association website)
As a native Texan and former resident of the Dallas area, I was fascinated by this artwork. The artist's comments on the label attached to the piece refer to a very famous wrestler, Fritz von Erich, patriarch of an equally [in]famous wrestling family living in the north Texas area. Mr. White was obviously a big fan not only of von Erich but of professional wrestling in general. This piece is practically a wrestling documentary. Killer Karl Kox, Gary Hart, and Spoiler #2 were all wrestling contemporaries of von Erich, and Marvin Jones was a well-known referee of the time.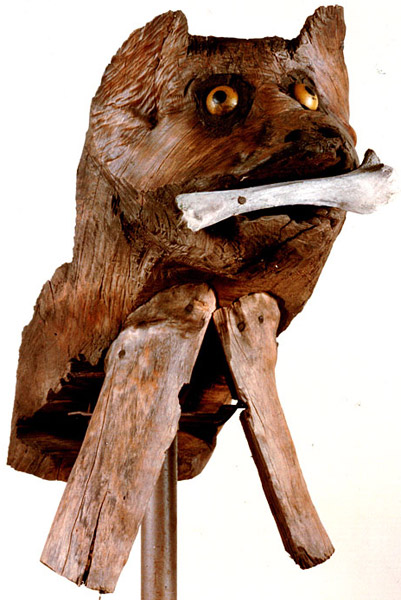 Title: Bull Dog (1969)
Media: Mixed media sculpture
Dimensions: Unknown
Artist: Jesse Aaron (1887-1979)
Born: Lake City, Florida
Comments: In 1968, while Aaron and his wife were living in the house he had built on N W Seventh A venue in Gainesville, he discovered that Lee Anna was losing her sight. He realized in desperation that without a steady job, he would have no money for her cataract- removal operations. As he told it to me, one morning he awoke at 3 A.M. with the voice of the Lord still reverberating in his ears, saying "Jesse, Carve Wood!" He immediately arose from his bed, went into his small workshop, and carved the first of his small wooden sculptures. (Via Souls Grown Deep website)
Jesse Aaron was a prolific folk artist and the web is chock full of examples of his work. This particular piece, however, is something of a ghost. I could locate no additional information about it. The Souls Grown Deep website linked above has a lot more information about Aaron.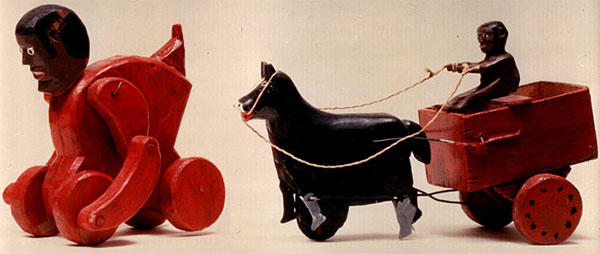 Title: Unknown
Media: Mixed media sculptures
Dimensions: Unknown
Artist: Unknown
I could locate no information about these pieces. I even tried doing Tineye searches on the individual figures, to no avail.
Title: This Is It (date unknown)
Media: Unknown
Dimensions: Unknown
Artist: Luster Willis (1913-1991)
Born: Terry, Mississippi
Comments: Willis's paintings are made form a variety of paper and materials. He tries to achieve subtle, three-dimensional shifts by painting on different kinds of paper with various thicknesses and collaging them together on the same canvas. Willis refers to this product as a "set-in" because the different materials are set together like puzzle pieces. Willis used primarily watercolors and acrylic paints on paper, pasteboard, cardboard, and plywood. Occasionally, to achieve more depth, he would add shoe polish or gold or silver glitter to the edges of the "set-in" pieces. (Via Wikipedia)
Luster Willis was another prolific folk artist, and created many paintings entitled "This Is It." However, this particular version didn't appear in any of the searches I did.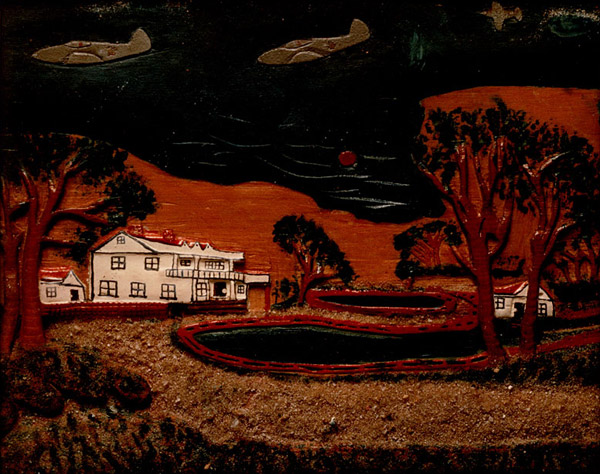 Title: Unknown
Media: Mixed media
Dimensions: Unknown
Artist: Unknown
I would love to know more about this piece. The red star on the airplanes might indicate that this was a reference to the Cold War.
Title: Unknown
Media: Mixed media sculpture
Dimensions: Unknown
Artist: Unknown
Once again, I struck out in my efforts to identify this sculpture of a horse race.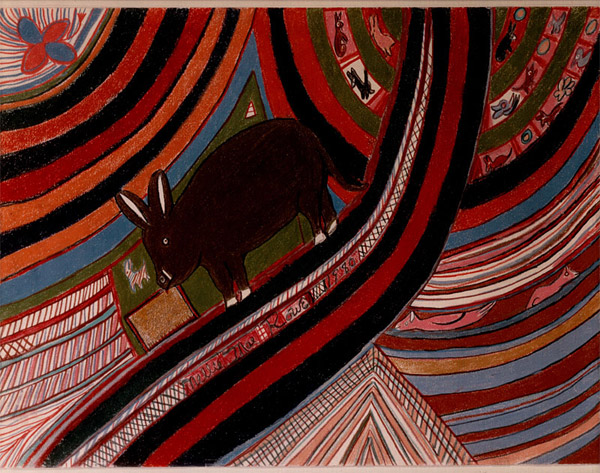 Title: Pig on Expressway (1980)
Media: Crayon on paper
Dimensions: 17 3/4″ x 23 3/4″
Artist: Nellie Mae Rowe (1900-1982)
Born: Fayette County, Georgia
Comments: Throughout her two-dimensional works, she incorporated common religious imagery, like the cross, or faith-based texts. A member of the African Methodist Church, Rowe was a deeply spiritual and religious Christian. Across some of her canvas she wrote, "Beleave in God and He Will Make A Way Far You" or "God Bless My House." She said, "Drawing is the only thing I think is good for the Lord" and attributed her artistic talent to God. Additionally, some scholars have located her depiction of "haints" or spirits in broader African-American spiritual traditions, which accepted the presence of voodoo spirits. (Via Wikipedia website)
Nellie Mae Rowe is one of the most important American folk artists, working in multiple media. Her art is on display in some of the most prestigioius museums in the country.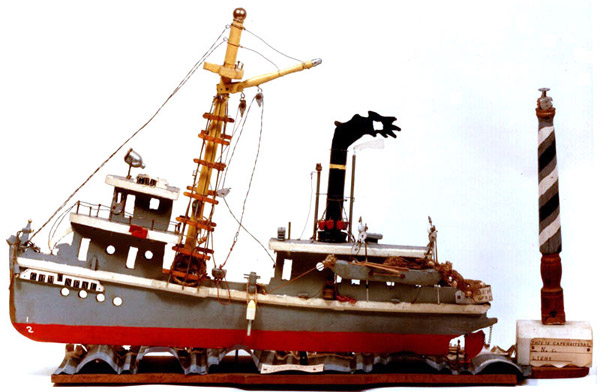 Title: G.H. McNEAL THIS IS FISH BOAT BACK IN YEAR 1929 RUN BY StEAM (ca 1970-74)
Media: Wood/plastic/fabric/metal
Dimensions: 32 5/8″ x 52 1/8″ x 12 1/2″
Collection: Smithsonian American Art Museum (SAAM)
Artist: Leslie J. "Airplane" Payne (1907-1981)
Born: Airport, Virginia
Comments: After living in New Jersey and Baltimore during his early adult life, Payne returned at forty to his native Virginia, where he made a living as a handyman while devoting much of his spare time to building large- and small-scale airplane models from found materials. They were displayed in an elaborate yard show that included model boats, hand-painted commemorative signs, and whirligigs. Payne was deeply interested in machinery of flight, but he also loved ornament.(Via Smithsonian American Art Museum website)
According to this piece's entry on the SAAM website, it was donated to the museum by Herbert Waide Hemphill, Jr., (1929-1998), an artist and collector of American folk art. The sculpture appears to not currently be on display…except here, albeit in two dimensions.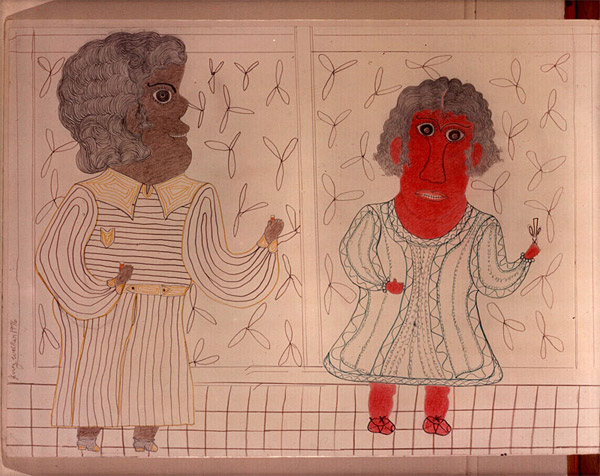 Title: Unknown
Media: Unknown
Dimensions: Unknown
Artist: Inez Nathaniel-Walker (1911-1990)
Born: Sumter, South Carolina
Comments: Inez Nathaniel went north to Philadelphia during the Great Migration of the 1930s to escape the harsh realities of farm work in the rural South. Convicted of the manslaughter of an abusive male acquaintance, she served time in the Bedford Hills, New York, Correctional Facility from 1971 to 1972, where she began to draw to isolate herself from the "bad girls" in the facility. When she remarried in1975, she took her new husband's name, Walker. Walker's drawings are almost exclusively single or paired portraits of females. In most of her works, the heads are drawn much larger and more expressively than the rest of the figures and dominate thecomposition. Though Walker never felt she was able to capture a likeness, and she relied on her imagination to develop the faces, she created clearly recognizable characters. Some recur frequently. Elements of self-portraiture are also evident in her figures, many of whom wear clothing, especially hats, based on the artist's own.(Via Smithsonian American Art Museum website)
Walker's style is consistently recognizable, and the example shown here is one of scores, if not hundreds of similar variations. Again, however, this specific piece doesn't show up in a Google image search. There is a website devoted to her life and work that goes well beyond the typical Wikipedia summary.
Acknowledgements
I want to thank the folks who provided valuable input to this article, beginning of course with John Lovaas. John had no real incentive to go to the trouble of contacting me and then working to provide high quality images of the artwork discussed herein, other than a desire to help maintain the historical record, as it were.
I also greatly appreciate the help of my former ARCO colleagues — most but not all of whom I knew in a former life — in nailing down the probable location of the artwork. These folks include Joe "Accounting" Watson, Ben Kawakami, Art Hughes, Jim Sluder, and Steve Molina.